Please register here for the Hull Mosque Eid Ul Adha Salah on Friday 31st July 
UNFORTUNATELY THE LADIES SECTION IS CLOSED FOR EID DUE TO SOCIAL DISTANCING AND LIMITED SPACE. PLEASE ACCEPT OUR APOLOGIES.
1st Eid Jamaat – Jamaat will start at 7.30am SHARP
2nd Eid Jamaat – Jamaat will start at 8.30am SHARP
3rd Eid Jamaat – Jamaat will start at 9.30am SHARP
4th Eid Jamaat – Jamaat will start at 10.30am SHARP
You must bring the items below, otherwise we cannot let you enter the masjid:
Prayer mat
Face Mask
Wear Socks
Bring spare bag for shoes
Please READ before you register:
Tickets are limited as we have low capacity, its first come first served. Once we are sold out please do not try to attend on the day.
Due to capacity, and no safe exit route the ladies section will be closed for this Jummah and therefore we will not be able to accommodate sisters this week.
Age limit: over 15+ and under 70 years applies for your safety.
Please do not attend if you have coronavirus symptoms, or are high risk from the illness.
Toilet and Wudhu facilities will NOT be available, all attendees MUST perform their wudhu at home before coming to the Mosque
Please bring show your ticket to enter at the door on your phone. NO ticket on the door means no entry.
Please support us in this as we are taking these measures for your safety. Jazakallah Khair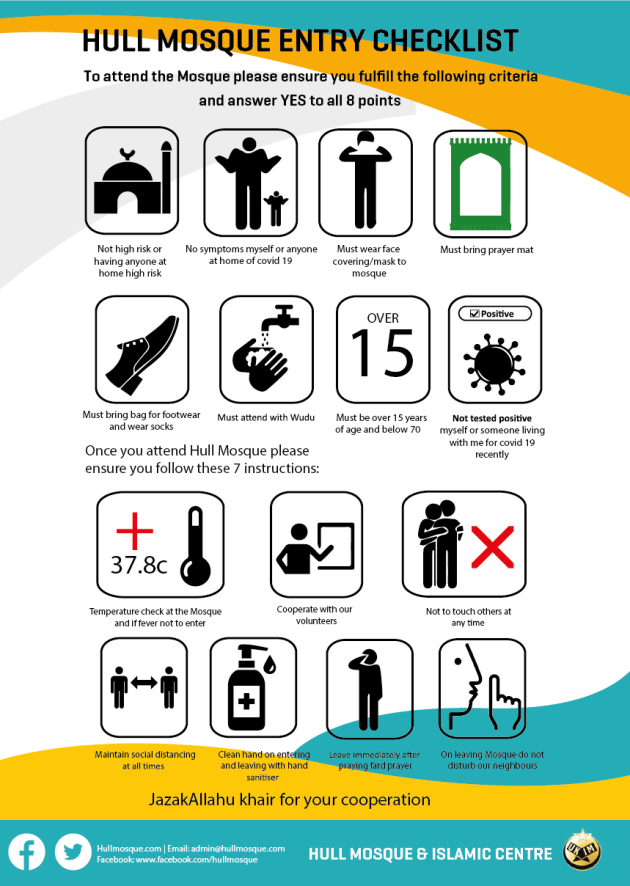 Entry Checklist – Please Read